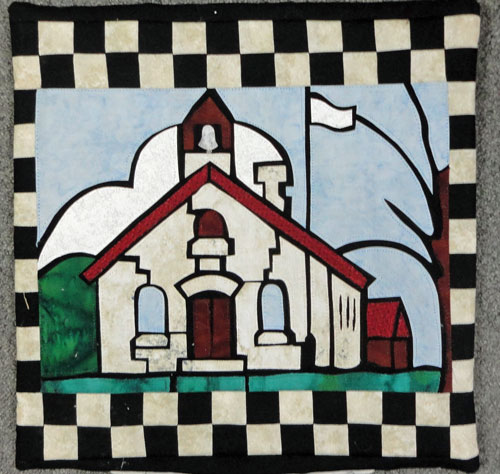 "Valley Views"-Munster Schoolhouse
Schools, like churches, are another cornerstone of Valley history and I was fortunate enough to have a beautiful example of an old stone one-room schoolhouse near my home. SS No 5 Goulbourn (Munster School) was built in 1890 and was in use until 1967. It was replaced by a modern school that is sadly saying goodbye to it's last classes of students this June. Like many of the old schoolhouses, SS No 5 sat vacant for many years and for a time was open as a pub. It has recently been extensively renovated and is being used as a wedding venue called "At The Schoolhouse".
This project features this lovely old building in a pillow-the back has a large Chimney and Cornerstone block-and can be found at The Quilting Quarters at 24 Mill St in Almonte. Before opening her shop, Sue was a teacher and it seemed natural for her to choose this project. The Quilting Quarters is a family affair and you can often see Sue, her dad and her mom at the shop. From fabric to notions, to a long arm quilting service and a large bright classroom, Sue can help you with your next quilting project.