"Valley Views"-The Doorways
Welcome! That's what doorways have always said to me. They are not only an entrance but an opportunity.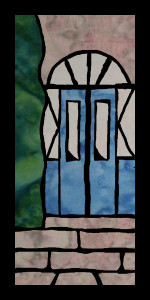 This doorway is from the Pinhey's Point Heritage site on the Ottawa River in Dunrobin. The site is maintained as a heritage site/museum and recreation area by the City of Ottawa and the Pinhey's Point Foundation. I love seeing these grand old stone houses throughout the Ottawa Valley but sadly we are losing many of them.
Churches are an important part of our valley history and were a focal point for many communities. This doorway represents the entrance to many of our gathering places.
The first project for the Edge of 17 Shop Hop is a wine bottle size gift bag featuring a doorway. A small gift placed in a hand made bag is a lovely way to say thank you for welcoming me!
The project is available at Sew For It! at 418 Moodie Drive in Bells Corners (Nepean). Betty loves to welcome people to her family run business. She has been serving customers since 1987! Sew For It! offers an amazing selection of 5000 bolts of fabric, walls of notions (including the entire line of sulky thread), and just about anything else your sewing/quilting project might need. Betty has been a Husqvarna/Viking machine dealer for over 20 years and a Baby-Lock representative for over 6 years. She also offers a full range of classes from sewing through serging, embroidery and quilting. Stop by and be "welcomed".