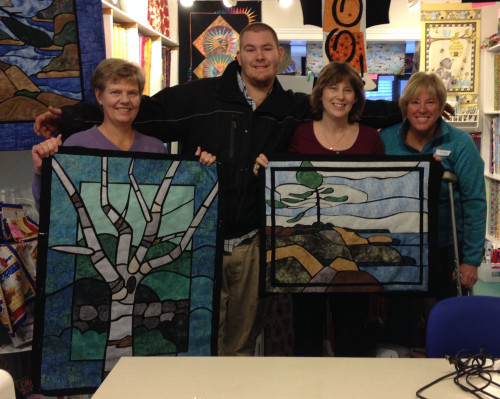 Muskoka Trip November 2014
We had so much fun in October at The Muskoka Quilting Company that Debbie asked me to come back in November for a few days. After a harrowing drive through snow squalls I had nothing but great sunny weather the whole time I was there! We offered a few different things including my favourites-crayons and paintstiks-and everyone had a good time. We hope to repeat it all in the spring.
I managed to catch a quick pic before everyone left the stained glass class (even caught a hubby in the shot). Poor Terri and her peg leg were pretty tired by the end of the day but still all smiles. Alas, I didn't get any of the ladies colouring, we were way too busy having fun. Debbie was so in the zone she almost forgot there was a shop to run!
We spent one of the days playing with 3D flowers and Diane was kind enough to send me a pic of her finished quilt-she plans to change up the flowers through the year.
All in all a great week, and the drive home wasn't too bad. Looking forward to getting back there soon!