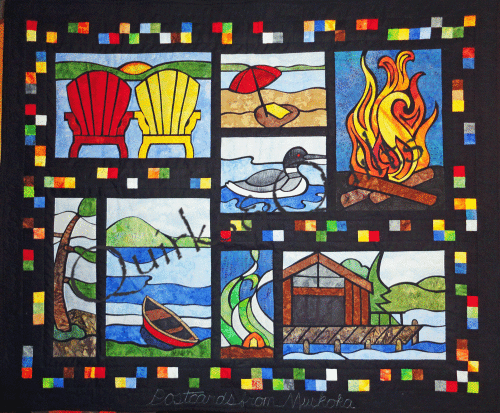 Muskoka pattern now available on my web site
Look in the Project Bin under Stained Glass and you will find the newest addition to the pattern family. I'm finally getting organized after a marathon 2000km trip through Muskoka! Teaching, trunk shows, demos and hanging out at shops meeting lots of quilters was a lot of fun but created lots of work! I have lots of news so stay tuned…..
This pattern is getting lots of attention and is only available through the web site or one of the six shops on the hop. My thanks to the shop owners for opening their doors (and in some cases, homes) to me.
Thank you's to:
3 gals and a quilt shop, Huntsville ON
The Muskoka Quilting Company, Bracebridge ON
Thimbles&Things, Orillia ON
Simcoe Sew and Quilt, Barrie ON
Elite Quilting, Barrie ON
Country Concessions, Cookstown ON
and last but certainly not least:
Cobwebs & Caviar, Shelburne ON
The East Simcoe Quilters Guild, Beaverton ON