The Inaugural Edge of 17 Hop was held in 2015 and involved eight Ottawa Valley shops. We'd love to do it again sometime!
Meanwhile, the design idea has caught on with other areas that want to celebrate their heritage. A number of shops have Block of the Month projects in the works…..
First up is Rutis Needlebed in Mississauga with their "My Mississauga"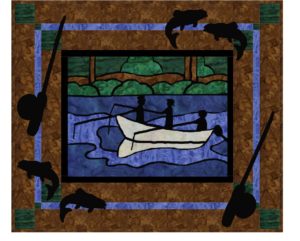 small wall hanging project-month one
Coming soon, "Sensational Shelburne", "Greater Kingston", and possibly "Wonderful Whitby" plus others. I am working with a number of shops to design their own special version-who knows maybe there will be a project for your area.